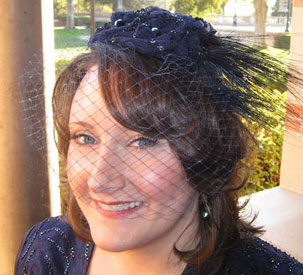 Debra Shirley is a professionally-trained, Chicago-based milliner who applies her talents in bold, inventive ways. A seasoned bridal-headpiece designer, her work has been showcased on the Oprah Winfrey Show and in exhibitions sponsored by the City of Chicago.
That same versatility and attention to detail is reflected in her work as a costumer and wardrobe stylist in film, television, and theater. A performer herself, Debra knows first-hand the toll performing can take on costumes, and she always delivers high-quality, cost-effective garments that can stand up to the demands.
Of Debra's wide range of skills, the millinery arts are her true passion. Her keen eye is always on the lookout for interesting fabrics, unique textures, and vintage objects to spark her next creation. By combining traditional hat-making techniques with new and repurposed materials, Debra's period-inspired designs are one-of-a-kind treasures.